(last updated - november 30th at 1:44 pm cst)

on an unrelated note - i'm extremely sad to report that former beatle george harrison died on nov. 29th. he was an amazing musician and songwriter, and our deepest sympathies go out to those who knew him.

hanson.net chat - hanson will be chatting on hanson.net on 12/5/01 at 8 pm est. this chat will be open to the public, so make sure to bookmark the chat page and think of something thought provoking to ask!

fan of the week - ahhhh, i'm so exited (shoutout to taylor) b/c hanson.net has selected yours truly as fan of the week.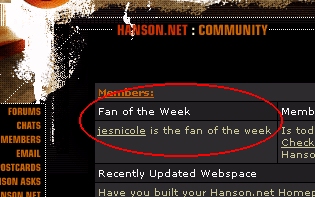 taylor likes pie - this is one among several interesting facts we learn in taylor's newest from us to you on hanson.net. let's see. . .he had been thinking of posting for a couple of days but couldn't get to a "computador," he had a great thanksgiving w/ family & friends, and he's looking forward to the release of the cd.
y-generation.com interview - if you head to y-generation.com, you'll be able to download a 20 minute interview and some clips from hanson's louisville, ky concert. (thanks hanson hotel!)
in the studio - if you're aching to see what hanson's been up to in the studio, be sure to check out recent studio pictures at hansonline and hanson.net.

sabrina, the teenage witch - according to seventeenmag.com's daily dish, hanson will be appearing on an upcoming episode of the show. eh will keep you posted when more facts on that become available.



email me news