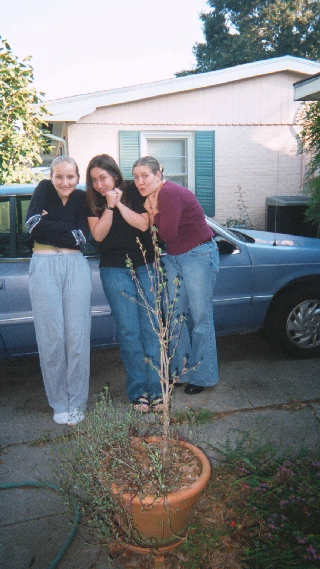 that's me in the middle, along with two of my best friends, jessie (left) and chris (right). the pic was taken 10/01 when i visited them in louisiana. want to know about me? cool dude. if you're a hanson.net member, check out my profile. if you're still thirstin' for facts about me, read on.

full name - jessica nicole robertson
call me - jessica. or jes. or mrs. taylor hanson. no, forget the last one. . .it makes me sound like a dork.
age - 17
date of birth - august 7th, 1984
place of birth - houma, louisiana
place of residence - bacliff, texas (i don't think bacliff has a website, lol)
grade - i'm finishing up my senior year via homeschooling.
school - as i mentioned, i'm homeschooling through active learning academy
actors of choice - ben affleck, matt damon, jimmy fallon, wes bentley, chad michael montgomery
actresses of choice - julia roberts, alexis bledel
television shows of choice - gilmore girls, snl, dawson's creek, the simpsons, seinfeld
band of choice - hanson (can't you tell?)
other music i like - dave matthews band, michelle branch, the black crowes, jonny lang, janis joplin, ben folds (five or not), sheryl crow, matthew sweet, o-town (guilty pleasure :o), eric clapton, billy joel, the beatles, blink 182, elton john, incubus, carole king, shannon curfman, admiral twin, and tons more

strange but true jes facts
i love to write. . .anything. (letters, poetry, short stories, reports, etc.)
i have been a hanson fan for darn near 5 years (which has given me 2 concerts and a trip to tulsa, ok)
i want to be a music journalist someday (hey, rolling stone & spin, are you listening?)
i tend to obsess about things so intensely that i burn myself out on them. well, except for hanson. i obsess over them pretty faithfully.
i loooooove new york city. i've had a fascination w/ the city since about 4th grade, and i finally got the chance to go there in march 2001. it was incredible. i want to live there someday. (that's a big dream for a southern gal)
i live in texas, but i don't claim this strange land as my home. i miss louisiana. :o(



look at me!

you voyueristic FREAKS. o well, have fun looking at me.